Launch of sensitive and specific SARS-CoV-2 antibody test announced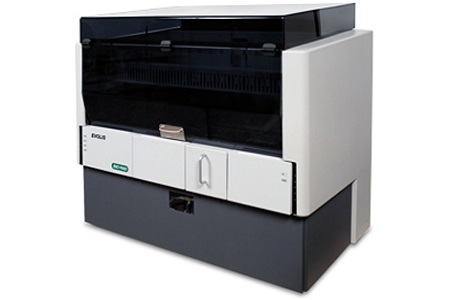 Bio-Rad Laboratories has announced the commercial launch of its SARS-CoV-2 Total Ab test, a blood-based immunoassay kit to help determine if an individual has developed antibodies to SARS-CoV-2, the virus associated with COVID-19 disease. Bio-Rad has applied for Emergency Use Authorisation offered by the US Food and Drug Administration (FDA) and has met CE-mark requirements for Europe.
Bio-Rad's SARS-CoV-2 Total Ab test can help clinicians identify if an individual has been infected by SARS-CoV-2 and therefore has developed an immune response against the virus. The test detects IgG, IgM and IgA antibodies, an approach that appears to be more sensitive than assays against a single immunoglobulin (Zhao J, Yuan Q, Wang H et al. Antibody responses to SARS-CoV-2 in patients of novel coronavirus disease 2019. Clin Infect Dis 2020 Mar 28: ciaa344. doi: 10.1093/cid/ciaa344. Online ahead of print).
Clinical evaluation of the SARS-CoV-2 Total Ab test has demonstrated diagnostic specificity of more than 99% and diagnostic sensitivity of 98%. Cross-reactivity testing demonstrated specificity of 100% with no reactivity against other interfering specimens including non-CoV-2 coronaviruses.
Broad-based antibody testing can provide a more complete picture of infection rates and immunity to help public health officials in their efforts to reduce containment orders.
"We are pleased to introduce our SARS-CoV-2 Total Ab test to support COVID-19 diagnosis and population screening," said Dara Wright (Bio-Rad Clinical Diagnostics Group EVP & President). "Having applied for FDA Emergency Use Authorisation and meeting the requirements for CE marking, we have begun shipping the test and are in the process of scaling up manufacturing to meet demand in the weeks and months ahead," she said.
The SARS-CoV-2 Total Ab test can be used manually or on an automated immunoassay platform, such as Bio-Rad's EVOLIS system, which offers high-throughput processing and sample traceability.
Other News
Featured Supplier

Stago's objective is to improve the health of as many people as possible by offering powerful biotechnology solutions for blood-based diagnostics. 
We take a lean, confidence-building approach to digital connectivity – from our latest Coag.One middleware to our cyber-secure Connect.One capability for enhanced engineering and remote...
Upcoming Events
International Convention Centre, Birmingham
14-17 March 2022
Access the latest issue of Pathology In Practice on your mobile device together with an archive of back issues.
Download the FREE Pathology In Practice app from your device's App store