Automated pipetting robot introduced to North America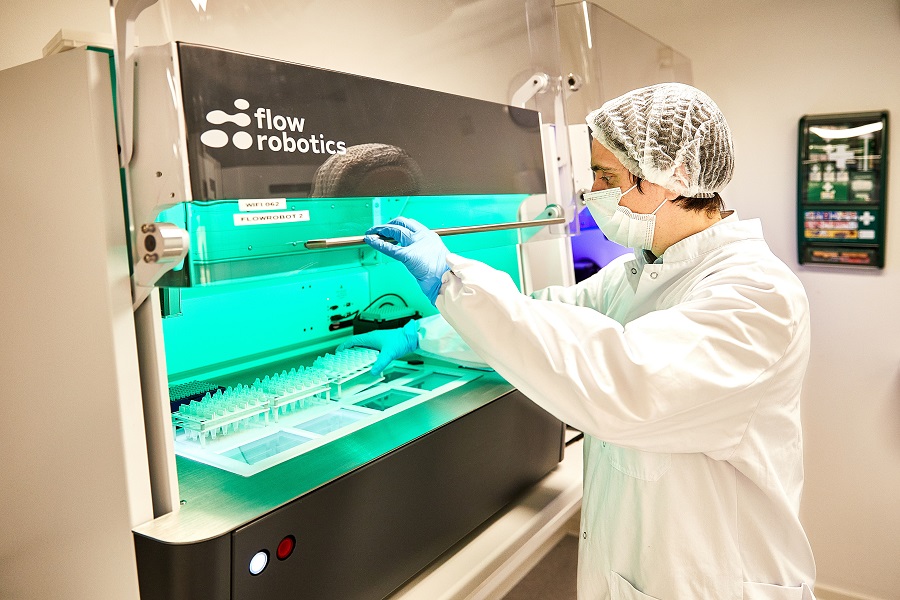 Flow Robotics, a Denmark-based designer and producer of robots for automated liquid handling and the creator of the flowbot ONE, has established a North American subsidiary, Flow Robotics, Inc.
The company's first product, the flowbot ONE, is designed to transform how liquid-handling responsibilities are performed in the laboratory by automating manual pipetting tasks. The flowbot ONE debuts at a pivotal moment for the laboratory industry, plagued for years with high workloads, burnout and physically challenging conditions recently exacerbated by the pandemic, which has brought an increased necessity for collecting and preparing virus samples quickly, safely and accurately.
Flow Robotics estimates that about half of medical laboratory staff carry out the same arm movements for at least a quarter of their working day. Manual pipetting is a large part of liquid handling in any laboratory, and it brings hours of repetitive work in fixed positions. This can result in physical strain to the shoulders, arms and hands. The American Society for Clinical Pathology found that 85% of laboratory professionals suffer from burnout; 36% struggle with inadequate staffing; and 32% face a heavy workload and pressure to complete all testing on time.
Unlike other automated liquid-handling robots, flowbot ONE does not require advanced programming skills so just about anyone can set up a procedure. The robot also has the ability to integrate to devices positioned on the deck or external to the system. It also supports the import and export of data.
In addition, flowbot ONE can play a role in many different pipetting applications and tasks in the laboratory. This includes the polymerase chain reaction PCR and qPCR, normalisation, sample aliquoting, microplate filing, next-generation sequencing (NGS), enzyme-linked immunosorbent assay (ELISA) sample preparation, assay development, screening, reformatting, cherry picking, transferring, serial dilution, plate replication and reformatting.
Since May 2020, the flowbot ONE has played an integral role in the fight against COVID-19 by speeding up the analysis of SARS-CoV-2 tests while keeping laboratory staff safe. Today, more than 600,000 virus tests are being prepared each month on a flowbot ONE in Europe, where the robots pipette the live virus, handling several samples simultaneously, all working from a predefined pipetting pattern.
Unilabs, one of the largest diagnostic providers in Europe, uses five flowbot ONE robots to help screen sclerosis patients for viruses. The flowbot ONE has helped to increase laboratory productivity by 40%t and reduced the time patients need to wait for results by 30%.
Nordic Bioscience, a biomarker powerhouse that develops novel biomarkers and performs clinical trials, automated its clinical laboratory equipment with the flowbot ONE to help optimise the work process and reduce pipetting for biomarker measurements. Hands-on laboratory time was reduced from 135 minutes to 20 minutes when running up to eight biomarkers simultaneously in the laboratory.
Other News
Featured Supplier
Since 1957, Gilson has been developing liquid handling, purification, and extraction solutions, helping the life scientist at the bench achieve more productive research and verifiable data. We help researchers advance the pace of discovery by creating instruments and services that makes lab life easier and improve their results.
LIQUID...
Upcoming Events
Online
3 December 2021
International Convention Centre, Birmingham
14-17 March 2022
Access the latest issue of Pathology In Practice on your mobile device together with an archive of back issues.
Download the FREE Pathology In Practice app from your device's App store