User workshop to feature next-generation sequencing panels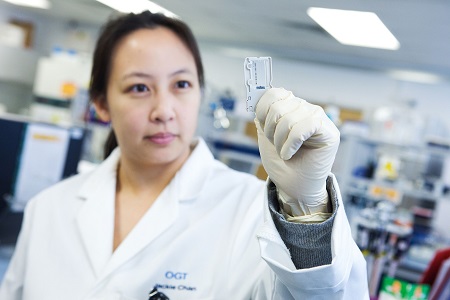 Oxford Gene Technology will host a live workshop at the Association for Molecular Pathology (AMP) 2020 virtual meeting, in which users will explain how OGT's SureSeq NGS panels can increase throughput in detection of a wide variety of aberrations.
The workshop, Implementing SureSeq Myeloid and CLL Panels for comprehensive genomic profiling of haematological malignancies, will be held on Wednesday 18 November at 4.30 pm EST (9.30 pm GMT). Click here to find out more and register for the workshop.
During the workshop, Dr Tracy Tucker, Cytogeneticist and Molecular Geneticist, Cancer Genetics and Genomics, BC Cancer Agency, and Associate Professor, University of British Columbia, will be talking about transitioning CLL FISH analysis into the molecular biomarker era using OGT's SureSeq CLL + CNV panel. Her presentation will be followed by Dr Elizabeth McCready, Head of Molecular Cytogenetics, Hamilton Regional Laboratory Medicine Programme, and Associate Professor, McMaster University, who will compare a hybridisation-based NGS panel versus single analyte and amplicon-based NGS assays for somatic mutation testing in myeloid malignancies, from her experience with OGT's SureSeq myPanel Custom Myeloid - 49 gene plus panel.
Oxford Gene Technology's NGS panels offer unparalleled coverage uniformity to detect low-frequency SNVs and indels consistently and with confidence. The SureSeq CLL + CNV panel can detect CNVs ranging from single exons to full chromosome arms and trisomies, which allows the profiling of samples for CNVs in the five most commonly aberrated regions in CLL. By replacing multiple assays with a single NGS panel, the SureSeq CLL + CNV panel can increase throughput and reduce turnaround time. OGT's SureSeq myPanel Custom Myeloid - 49 gene plus panel offers robust detection of difficult to sequence genes such as CEBPA variants, FLT3-ITDs and KMT2A-PTDs, ensuring comprehensive aberration detection in a highly streamlined workflow. Oxford Gene Technology's customers are able to accurately identify a comprehensive range of variants and CNVs using the company's complimentary, powerful, and easy-to-use Interpret analysis software.
"The AMP virtual meeting is a great opportunity to showcase the exceptional data quality of our NGS panels, and we're pleased that Dr Tucker and Dr McCready are able to share their research with delegates", said OGT's CEO John Anson. "OGT is fully committed to the NGS space. We offer robust NGS panels that target the most relevant content and various types of aberrations – including CNV detection – and a complete range of NGS consumables, all backed up by the renowned expertise of our technical specialists. Being part of Sysmex, a large global IVD company, has opened up a number of exciting possibilities for OGT, and we have many exciting plans for developing and expanding our NGS offering."
Click here to find out more and to register for the workshop
Other News