Community-based near-patient testing for schizophrenia patients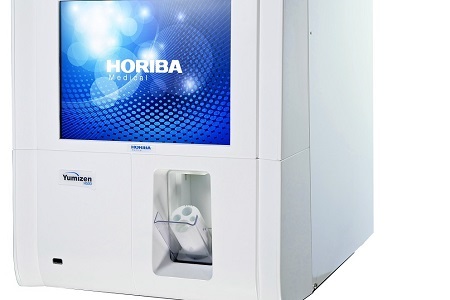 HORIBA UK, Medical recently received recognition for a new partnership with Britannia Pharmaceuticals and Northumberland Tyne & Wear Mental Health Trust (NTW) for community-based near-patient testing for treatment-resistant schizophrenia patients.
Highly commended within the 'Best Healthcare Provider Partnership with the NHS' category at the recent HSJ Partnership Awards, the installation of HORIBA's Yumizen H500 point-of-care haematology analysers (pictured) at 14 of its mental health clinics has enabled NTW to improve its model for clozapine dispensing significantly. Schizophrenia patients now have an effective 'one-stop shop' for blood testing and dispensing, with improved patient outcomes evident.
Clozapine, supplied as Denzapine by Britannia Pharmaceuticals, is indicated in treatment-resistant schizophrenic patients and in schizophrenia patients who have severe, untreatable neurological adverse reactions to other antipsychotic agents, including atypical antipsychotics. Denzapine is also indicated in psychotic disorders occurring during the course of Parkinson's disease, in cases where standard treatment has failed.
This prescription medicine can cause agranulocytosis resulting in serious infections and even death. Therefore, prior to treatment initiation, clinicians must ensure, to the best of their knowledge, that the patient has not previously experienced an adverse haematological reaction to clozapine that necessitated its discontinuation. Prescriptions should not be issued for periods longer than the interval between two blood counts.
Before clozapine can be dispensed, white blood cell count (WBC) and an absolute neutrophil count (ANC) are required to ensure patient safety. The NTW clinics operate a traffic light dispensing system, meaning that patients not having a blood test or without a confirmed sufficiently high WBC or high ANC cannot receive their clozapine prescription. This can cause subsequent stress and anxiety for the patient.
The Yumizen H500, which delivers a full blood count with five-part WBC differential from just 20 μL whole blood within two minutes at the NTW clinics, has helped to alleviate stress, as more patients can now receive their prescription immediately in a single visit to the clinic. Furthermore, as the Yumizen H500 can analyse capillary blood samples obtained by a simple fingerprick, this can be used as a last resort as an easier means of taking blood from mental health patients who may be particularly anxious or are drug users.
"Previously patients would have to attend clinic at least twice to obtain their clozapine. Once to have their blood taken, then the sample would be sent by post to the main laboratory, meaning they would then have to return to pick up their prescription a few days later," explained Carolyn Gahgan (Mental Health Liaison Manager, Britannia Pharmaceuticals). "Having to travel and attend clinic can be particularly stressful for mental health patients, so being able to set up a 'one-stop shop' has proved a real game-changer for the trust and its patients."
The HSJ Partnership Awards celebrate the most effective partnerships with the NHS, and highlight the benefits that working with the private and third-party sectors can bring to patients and NHS organisations.
Other News
Featured Supplier
Since 1957, Gilson has been developing liquid handling, purification, and extraction solutions, helping the life scientist at the bench achieve more productive research and verifiable data. We help researchers advance the pace of discovery by creating instruments and services that makes lab life easier and improve their results.
LIQUID...
Upcoming Events
NEC, Birmingham
3-4 November 2021
International Convention Centre, Birmingham
14-17 March 2022
Access the latest issue of Pathology In Practice on your mobile device together with an archive of back issues.
Download the FREE Pathology In Practice app from your device's App store