Local MP visits Southwest Pathology Service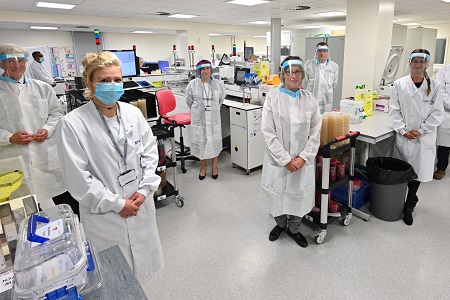 Southwest Pathology Service (SPS), which has been at the forefront of the national effort to provide potentially life-saving coronavirus and COVID-19 testing, has been commended by Taunton Deane MP Rebecca Pow.
Ms Pow praised the dedication and commitment of SPS, a Joint Venture between SYNLAB, Somerset NHS Foundation Trust and Yeovil District Hospital NHS Foundation Trust, in helping to stem the spread of the disease.

During a tour of the state-of-the-art laboratory, Ms Pow said: "I would like to sincerely thank everyone at the Southwest Pathology Service, all of whom have made a phenomenal contribution to the fight against COVID-19. The laboratory really is the nerve centre of testing for this terrible disease and I have found my visit extremely enlightening.

"It is both a professional and a hi-tech operation and the dedication of the team, which has implemented a testing regime that runs 24 hours a day, seven days a week, is outstanding. We owe a huge debt of gratitude to the Southwest Pathology Service, whose tremendous efforts are proving vital to helping to protect the public during these unprecedented times."
Southwest Pathology Service has played a key role in supporting the NHS testing programme, ramping up its operations within days of the World Health Organization declaring the SARS-CoV-2 coronavirus had reached pandemic levels, with capacity for polymerase chain reaction (PCR) testing scaling up from zero at the beginning of March to 150 per day by 20 March.

Staff immediately underwent a specialist training programme, culminating in the introduction of a 24/7 shift pattern by the end of the month, enabling vital testing to take place around the clock.

The team has continued to innovative over the past six months, significantly increasing its capacity to accommodate 1000 PCR tests per day. The results of this method of testing are available in five hours – putting the laboratory in the top three for turnaround times in the UK.
It has also implemented a fast-track system with capacity to carry out 100 coronavirus tests per day, where a positive or negative diagnosis can be reached in just 30 minutes. In total, SPS conducted 13,000 PCR tests and 1672 fast-track tests for the NHS in September. The service also has capacity to provide 1000 antibody tests each day with screening undertaken for all healthcare workers across the trusts and primary care sector in June and July.
The role of COVID-19 Pathology Incident Director was introduced to provide a dedicated point of contact between NHS England and NHS Improvement, local trusts and the Clinical Commissioning Group, overseeing the delivery of the NHS testing regime in Somerset. It also drew upon the wider SYNLAB UK & Ireland network to second a Scientific Officer from the Molecular Testing Department at VPG Exeter to help train colleagues

Southwest Pathology Service General Manager Lynda Kazer said: "I'm extremely proud of my colleagues across the Southwest Pathology Service who have demonstrated unwavering commitment and dedication in helping to combat the spread of COVID-19. Their ability and willingness to adapt to these unprecedented times has been incredible, enabling the Southwest Pathology Service to play a vital role in the national fight against coronavirus, easing pressure on the NHS and, ultimately, saving lives.

"We have innovated and developed our service during the past six months, increasing capacity from a zero base to our current ability to provide 1000 PCR and antibody tests and 100 fast-track tests every day. This has been a truly collaborative effort between SYNLAB, the NHS and public health bodies, both nationally and locally, all of which have made a vital contribution to protecting the nation during the most challenging health crisis in living memory."
Other News