Dundee biomedical scientist wins award for writing on PV testing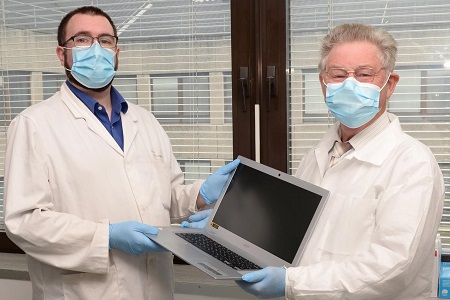 A Dundee-based biomedical scientist has won the 2020 Bernie Benson Prize for his science writing. The competition sought to promote the understanding and exploration of blood viscosity testing.
Plasma viscosity is an affordable and reliable test that is currently receiving a lot of interest due to its potential to identify COVID-19 patients who are at risk of fatal blood clots.
The competition was run by medical equipment manufacturer Benson Viscometers. This year it invited entrants to provide an essay or presentation discussing the uses of blood plasma viscosity testing for diagnosis, monitoring and screening.
Chris Bell, a biomedical scientist in haematology for NHS Tayside, was picked as this year's winner. Bernie Benson travelled to Dundee to present Chris with his prize – an Acer Chromebook 15.6" touchscreen laptop.
Bernie said: "It was a delight to be able to present this prize to Chris because we were so impressed with his entry. He submitted an excellent synopsis of plasma viscosity, took a broad-minded approach to the topic and ensured his entry was up to date, including COVID-19 within his submission. An excellent bit of writing.
"Chris highlighted the advantage of the plasma viscosity (PV) test in relation to COVID-19 but also referenced the longstanding benefits recognised by PV missionaries for many years. The judges also appreciated the use of references to back up the statements and arguments presented."
Other News