Ready-to-use kit for rapid AAV titre determination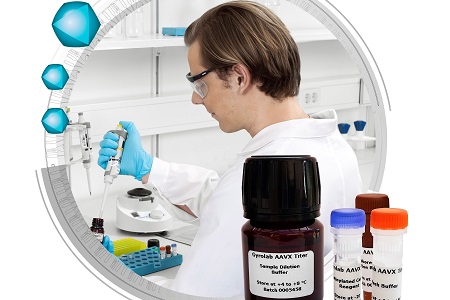 Gyros Protein Technologies, a pioneer in automated nanolitre-scale immunoassays, peptide synthesisers and reagents, has introduced the Gyrolab AAVX Titre Kit for adeno-associated virus (AAV) vector titre determination in AAV vector manufacturing.
The new kit, one of the critical quality attributes (CQAs) of the US Food and Drug Administration (FDA) process validation guidelines, has a broad applicability across numerous AAV serotypes and adds to the company's wide range of ready-to-use kits that are already used by scientists and bioengineers in the rapidly growing cell and gene therapy market, where AAV vectors are commonly used.
The new kit generates results four times faster and requires 10 times less sample compared to traditional enzyme-linked immunosorbent assay (ELISA) methods, accelerating AAV vector workflows and enabling high-quality data to be produced from small sample volumes.
Gyrolab AAVX Titre Kit is based on a highly selective AAVX affinity ligand developed with the Thermo Scientific CaptureSelect technology by Thermo Fisher Scientific. These ligands are also the basis of POROS CaptureSelect AAVX Affinity Resin, which is frequently used to purify AAV viral vectors. The AAVX ligand binds with high affinity and selectivity to native and recombinant AAV particles of various serotypes (AAV1–AAV8, AAVrh10).
www.gyrosproteintechnologies.com
Other News