Molecular transport medium for dual SARS-CoV-2 and influenza sampling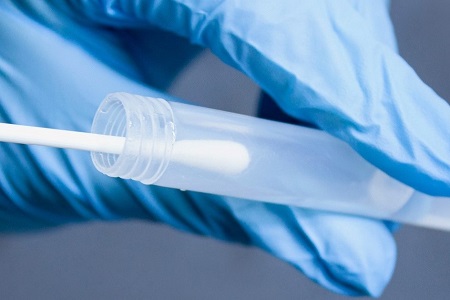 EKF Diagnostics has added a novel viral transport media for the safe sample handling and testing of multiple infectious diseases from a single swab to its product range. PrimeStore MTM is a collection device that deactivates viruses.
Active against SARS CoV-2, influenza A and B, HIV and TB, PrimeStore MTM is already proven in the US market, and ensures transportation and workplace safety for disease testing programmes, greatly reducing the risk of infection to health workers, couriers, and laboratory staff.
Designed and optimised for molecular testing, PrimeStore MTM is an FDA class 2-cleared sample collection and transportation device that effectively kills viral and bacterial pathogens whil`e preserving and stabilising the released DNA and RNA. The molecular transport medium supports many downstream molecular applications, including qPCR and next-generation sequencing.
The sample can be safely stored at ambient temperature for up to seven days and re-used several times. As well as reducing the risks of handling live pathogenic samples, this also cuts costs by eliminating cold chain requirement and need for category 3 facilities, as testing can take place outside of containment.
As multiple tests can be processed from one sample swab, it is ideal for the approaching influenza season as samples stored in PrimeStore MTM can be tested for both coronavirus and influenza from a single sample that has been inactivated and stabilised.
Other News