Digital blood cell morphology QC, training and evaluation tool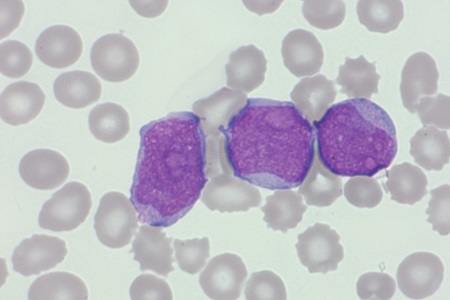 HORIBA UK, Medical has launched an affordable digital tool for online skill evaluation and training in cytology. The Quality Slide Program (QSP) 2.0 draws on the wealth of haematology expertise held within HORIBA Medical globally.
The company has made its blood cell morphology knowledge accessible to all laboratories, whatever their haematology platform. Also included in the new QSP 2.0 monthly training package are educational newsletters that share detailed cytology case studies, scientific features, quick tips and a review of the latest training slides.
The QSP 2.0 software delivers an intuitive educational blood cell identification tool using high-definition digital cell morphology imaging (as illustrated by the acute leukaemia case pictured). Laboratory staff are able to examine and report on digital blood films that have been preselected and reviewed by experts. This enables laboratory management to assess the ability of prospective examiners to classify correctly individual white blood cell (WBC) populations and other identifiable elements in accordance with the quality control requirements of ISO 15189.
An essential aspect of laboratory accreditation is the assessment of staff skills in accordance with sections 5.1.2.d (Assessment of Competences) and 5.1.3 (Continuous Training) of the NF EN ISO 15189 standard. HORIBA Medical understands the challenges this presents, and so developed QSP 2.0 as a unique digital tool for the cytology benchtop in any laboratory to support QC in slide review.
"QSP 2.0 helps to standardise an area of the laboratory where results may sometimes be subjective. Continuous improvements to full blood count (FBC) technology over the years has led to low blood film review rates; however, this means there has been a reduction of experience, staff confidence and a consequent skills gap in blood morphology review," said Mandy Campbell (Sales and Marketing Manager – Medical, HORIBA UK). "QSP 2.0 uniquely helps to overcome these challenges by improving training in blood film morphology and providing a means of assessing staff competences."
Available in single or site licence formats, the QSP 2.0 software is simply downloaded and activated online and offers six digital cell morphology slides for evaluation monthly. Each clinical case, which may be normal or abnormal, is selected from real-life cases worldwide, so presenting a great diversity of pathologies. All are selected and reviewed by HORIBA Medical experts and associated key opinion leaders in haematology morphology. On download of the slides, the laboratory manager establishes the control protocol and chooses the slides to be analysed by an unlimited number of their slide reviewers.
The virtual slides offer a minimum of 100 WBCs to classify, and allow reviewers to add comments on all blood populations and diagnostic analysis based on clinical information. Once the cases are examined by the laboratory personnel, a full report is generated for the manager. This report includes a summary of the responses from the different laboratory reviewers and the analysis of continuous improvement. Reports also present complete performance statistics and gap analysis of misclassified cells, giving the laboratory a leading educational tool for continuous training.
Other News
Featured Supplier

Stago's objective is to improve the health of as many people as possible by offering powerful biotechnology solutions for blood-based diagnostics. 
We take a lean, confidence-building approach to digital connectivity – from our latest Coag.One middleware to our cyber-secure Connect.One capability for enhanced engineering and remote...