Rapid lateral-flow antibody test for SARS-CoV-2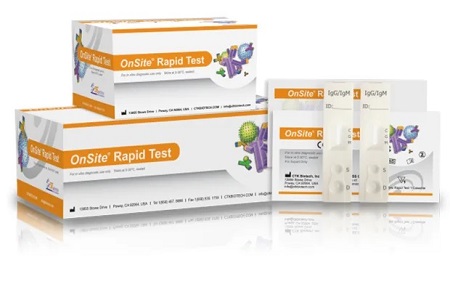 Significant efforts are being made to protect public health and prevent local, regional or national spikes in SARS-CoV-2 cases. Antibody testing can determine population seroconversion and aid epidemiological and public health decisions.
In addition to the Viasure real-time polymerase chain reaction (RT-PCR) kit, used widely in the UK, Pro-Lab Diagnostics is pleased to be launching another tool to help laboratory and medical colleagues continue the fight against SARS-CoV-2 and COVID-19 disease.
The OnSite Rapid Test is a single-use lateral-flow immunoassay intended for qualitative detection and differentiation of anti-SARS-CoV-2 IgG and IgM antibodies in 10 minutes, from human serum, plasma or whole blood. Resulting from a partnership between CTK Biotech, Avonchem and Pro-Lab Diagnostics, the kit was launched in early March and has undergone extensive evaluation, the results of which are now available.
Click here for the full technical details, evaluation reports and performance data.
Other News