Increased pipetting productivity and performance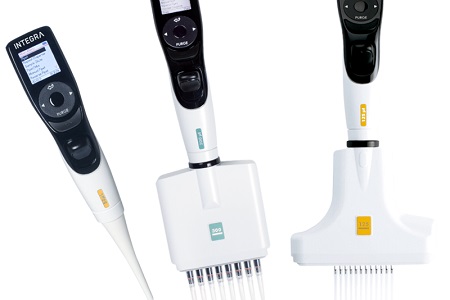 INTEGRA's range of VOYAGER and VIAFLO single and multichannel electronic pipettes can help laboratories enhance their precision and accuracy, and improve ergonomics, while saving time and reducing costs.
There are many reasons why working with electronic pipettes is the sensible choice. The improvement in ergonomics and increase in productivity and performance is enormous. Programs can be standardised, improving reproducibility by preventing operator-to-operator variability and minimising manual errors. Users can also define step-based custom programs, allowing protocols to be tailored from start to finish and complex pipetting processes to be simplified. In addition, electronic pipettes offer vastly improved ergonomics, relieving the strain that prolonged pipetting puts on the thumb, wrist and hand.
Electronic pipettes, such as the VOYAGER and VIAFLO, offer other advantages, too. One electronic pipette can fulfil the role of multiple laboratory instruments, allowing standard pipetting, repeat dispensing, dilution and titration to be carried out all on the same pipette – simply choose the appropriate program for your needs. Often, one electronic pipette can replace two manual pipettes because it can cover a wider volume range at better specifications. And with just one pipette to maintain, calibration time and costs are reduced.
Other News
Featured Supplier

Sysmex UK Ltd are one of the UK's leading diagnostic suppliers of automated haematology, coagulation and urinalysis analysers, reagents and information systems for laboratories and healthcare facilities. 
With a reputation for high quality products, unmatched service and unrivalled reliability, Sysmex has become a world leader in...