Latest laboratory collaboration to provide precision oncology at scale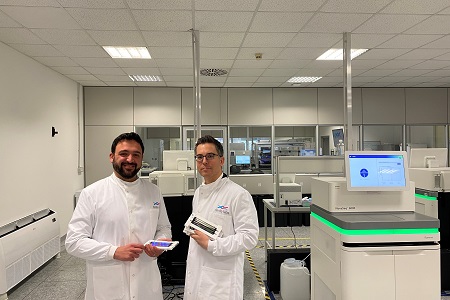 Dante Labs, Cambridge Cancer Genomics and Nonacus have formed a partnership that aims to build the most comprehensive and patient-centred tumour profiling service, enabling improved cancer patient management, treatment and monitoring.
By combining Dante Labs' experience and capacity in delivering a sequencing service for both solid tumour and cell-free circulating tumour DNA from liquid biopsies, Nonacus' sensitive targeted pan-cancer next-generation sequencing (NGS) libraries, and Cambridge Cancer Genomics (CCG) industry-leading artificial intelligence (AI)-powered software platform, OncOS, the companies will enable precision oncology at scale.
Improving outcomes for cancer patients means ensuring they have the right drug, at the right time to beat their cancer. This means understanding the molecular profile of the individual cancer and using that data to recommend treatments or clinical trials. Oncologists and clinical researchers will be able to send samples for processing to Dante Labs, which will use library preparation kits from Nonacus and software from CCG to create a sample-to-report solution. If there are actionable mutations, the report will recommend the right treatments for those mutations; if there are novel or unactionable mutations, the software will also be able to match possible clinical trials.
Pictured (from left) are Dr Mattia Capulli, CTO, and Andrea Riposati, CEO, co-founders of Dante Labs.
Other News
Featured Supplier
Hamamatsu Photonics UK Limited is a world-leading manufacturer of optoelectronic components and systems. The Company's corporate philosophy stesses the advancement of photonics through extensve research and yields products that are regarded as state-of-the-art. Developments in digital imaging continue to be made by the Hamamatsu Systems Divison,...