MAGNUS: a game-changer in tissue processing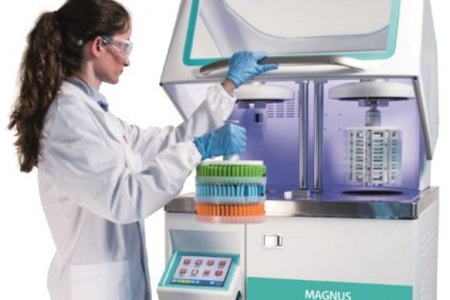 Menarini Diagnostic is expanding its cellular pathology portfolio with MAGNUS, the most advanced tissue processor on the market, which will allow users to achieve same-day diagnosis for urgent biopsies with minimal downtime and intervention.
New functionality on the MAGNUS includes real-time reagent quality monitoring with inbuilt ultrasonic sensor, automatic wax refill, and the dual manifold configuration separating water and alcohol-based reagents. All this means total safety for patient samples and the operator with optimal processing quality.
MAGNUS is the fastest processor on the market offering run times even below one hour, and, with no requirement for daily cleaning runs, it ensures the most efficient turnaround time for all specimens.
MAGNUS is the tissue processor that is Lean, safe, flexible and cost-efficient for all types of specimens, with prevalidated xylene-free or xylene protocols and optional onboard embedding functionality.
More details about the MAGNUS tissue processor, or any items in the Menarini cellular pathology range, are available by telephone, email or online.
Email: [email protected]
Tel: +44 (0)118 944 4100
www.totaltissuediagnostics.com
Other News