Win an INTEGRA electronic micropipette and never look back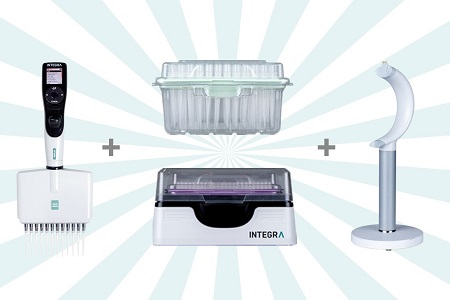 INTEGRA Biosciences is offering laboratories a chance to win a VIAFLO multichannel electronic pipette of their choice. The VIAFLO electronic pipette is designed to offer better pipetting for virtually any application, helping users to achieve excellent results faster.
Electronic pipettes can enhance the productivity and performance of a workflow by maximizing reproducibility and minimising the risk of errors or operator-to-operator variability. Lightweight VIAFLO pipettes offer improved ergonomics by reducing the strain that prolonged pipetting puts on the thumb, wrist and hand. Each pipette provides a number of programs for common tasks – standard pipetting, repeat dispensing, dilutions and titrations – as well as step-based custom programs that can be tailored to individual protocols. Available with a choice of onen, eight, 12 or 16 channels, offering volume ranges from 0.5 µL to 5000 µL VIAFLO electronic pipettes combine with INTEGRA's GripTips for tips that never leak, loosen or fall off.
INTEGRA is giving laboratories the chance to experience this superior pipetting performance by winning a VIAFLO electronic pipette of their choice. This prize includes:
VIAFLO electronic multichannel pipette
Single pipette charging stand
One PopTop Base for use with ECO Racks
ECO Rack GripTip pipette tips corresponding to the chosen pipette.
All you need to do to enter this competition is visit the INTEGRA Biosciences website and fill out a short questionnaire. The deadline for entries is 30 June 2020, and the winner will be announced shortly afterwards.
www.integra-biosciences.com/united-kingdom/en/win-viaflo-pipette-kit?utm_source=press-release&utm_medium=referral&utm_campaign=win-viaflo-2020
Other News
Featured Supplier

Stago's objective is to improve the health of as many people as possible by offering powerful biotechnology solutions for blood-based diagnostics. 
We take a lean, confidence-building approach to digital connectivity – from our latest Coag.One middleware to our cyber-secure Connect.One capability for enhanced engineering and remote...