Prostate cancer: combined biomarkers and a risk score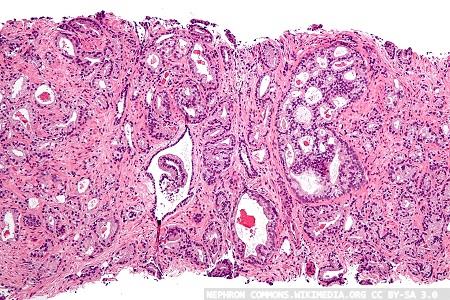 Proclarix, the blood-based test for prostate cancer from Proteomedix, is now commercially available in Europe. Proclarix combines proprietary biomarkers and a risk score that accurately identifies an individual patient's risk for clinically significant prostate cancer.
The announcement of the launch follows a thorough clinical validation in which the convenient blood test, optimised for maximum sensitivity for prostate cancer, demonstrated an accuracy superior to any other in vitro diagnostic method of prostate cancer diagnosis. The negative predictive value (NPV) of the test was found to be 95% in a large study of 955 subjects collected from two different hospital cohorts evaluating its performance. In the same cohort the specificity was 43% versus 18% for free prostate specific antigen (PSA), the current gold-standard in prostate cancer detection.
With this high level of performance, the new risk score provides a reliable and convenient method to complement PSA testing in prostate cancer diagnosis. Proclarix has the potential to reduce the number of biopsies needed to detect clinically relevant prostate cancer.
According to the World Health Organization, there were about 450,000 diagnosed cases of prostate cancer and over 105,000 deaths from prostate cancer in 2018 in Europe. Prostate cancer remains the second-leading cause of cancer death in men in Europe.
Proclarix is CE/IVD-marked and indicated for prostate cancer diagnosis in patients with normal digital rectal examination (DRE), enlarged prostate volume and elevated levels of PSA at 2–10 ng/mL. Proclarix is a risk score combining in vitro assays for the quantitative detection of biomarkers with a proprietary algorithm to assess a patient`s risk of having clinically significant prostate cancer. Detection of prostate cancer-related biomarkers in serum using the Proclarix risk score has been demonstrated in multiple clinical studies to be a reliable indicator of the presence of clinically significant prostate cancer.
Other News
Featured Supplier
DiaSorin is an Italian multinational Group and a global leader in the market for in vitro diagnostics. DiaSorin is listed on the MTA (automated stock market) in the FTSE Italia Mid Cap Index, organized and managed by Borsa Italiana S.p.A 
For over 40 years the Group has been developing, producing and commercializing diagnostic tests for a wide...