Next-generation sequencing panel for constitutional cytogenetics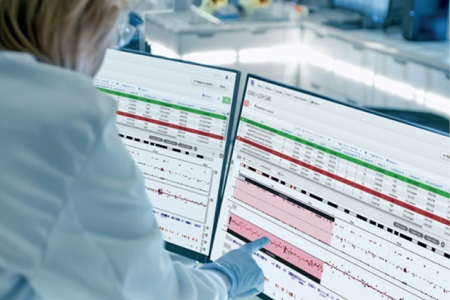 Oxford Gene Technology (OGT) has launched a transformative next-generation sequencing (NGS) panel for constitutional cytogenetics research. The CytoSure Constitutional NGS Panel contains the most up-to-date, hand-curated content for intellectual disability (ID) and developmental delay (DD) research. Delivering accurate and reliable detection of copy number variations (CNVs), single nucleotide variations (SNVs), insertion/deletions (indels) and loss of heterozygosity (LOH) – including in mosaic samples – the panel combines the benefits of NGS and microarrays in one cost-effective assay.
The empirically-optimised CytoSure Constitutional NGS panel, designed in collaboration with leading cytogenetics experts and consortia, targets over 700 genes at the exon level. The panel has been rigorously tested in cytogenetics laboratories in order to ensure the highest possible performance and confidence in results.
Designed to be run on the Illumina NextSeq or NovaSeq, the CytoSure Constitutional NGS solution includes hybridisation capture baits, a complete library preparation kit (including hyb/wash buffer) and powerful complimentary analysis software for SNV, indel, CNV and LOH interpretation. OGT's easy-to-use Interpret software delivers confident, dependable data analysis and is a familiar visual platform for cytogeneticists – facilitating an easy transition to NGS.
Available at a similar cost to arrays, but yielding substantially more-informative data, the CytoSure Constitutional NGS panel offers a more cost-effective solution than whole exome sequencing, reducing the costs of data storage while minimising detection of variants of uncertain significance (VUS), which are often seen as time consuming to analyse.
John Anson, OGT CEO commented, "We're excited to bring this transformative constitutional NGS panel to market. For those wishing to transition from arrays to NGS there just hasn't been anything on the market that could yield small CNV and LOH detection results that you could really be confident in. We're delighted to say that with our expertise in hybridisation chemistry we've remedied that and the results speak for themselves. We've packaged the panel in a familiar format for all our cytogenetics customers with our Interpret software, making it really easy for labs to make the transition and start getting even more meaningful data from a single assay. We've essentially brought all the quality, accuracy, ease of use and reliability you'd expect from our CytoSure brand to an NGS panel designed specifically for constitutional cytogenetics."
Other News