Increased flexibility and efficiency offered in molecular testing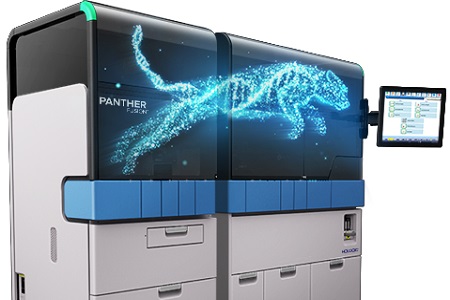 Hologic has announced that new products within the Panther Scalable Solutions (PSS) portfolio are now commercially available in the United States and Europe. These new optional configurations, which represent Hologic's next generation of molecular diagnostics innovation, will allow laboratories to scale their instrumentation to meet testing demands both in their current workflow and their future growth plans.
"Our laboratory partners seek continuing efficiency and consolidation, and we are observing that trend in real time, with more Panther instruments in the field running multiple assays than ever before," said Kevin Thornal, President, Diagnostic Solutions Division at Hologic. "In the tenth year since launching the Panther system, we are excited to add expanded capabilities to our market-leading molecular diagnostic platform."
The Panther system, launched in Europe in 2010, offers random access and full automation for molecular testing. It provides a broad assay menu that includes tests for women's health, sexually transmitted infections (STIs), respiratory health, and viral load, as well as Open Access functionality for laboratory-developed tests (LDTs). This broad menu enables laboratories to consolidate molecular testing onto a single platform.
Within Panther Scalable Solutions, the Panther system functions as the foundation for optional add-ons. These include Panther Fusion, which launched in 2016 and provides additional in vitro diagnostic (IVD) menu and the Open Access functionality, the now available Panther Plus and Panther Link, as well as the upcoming Panther Trax.
Taken together, these configurable options address the needs of today's laboratories, allowing them to increase operational capacity and testing volumes at their own pace, while building on the flexibility and streamlined user experience they require. Panther Scalable Solutions allows laboratories to choose custom configurations that best suit their needs and testing volumes as they evolve over time. These new options expand upon the proven performance and reliability of the Panther system.
www.hologic.com/hologic-products/diagnostic-solutions/instrumentation
Other News