A successful anniversary year for Process Analytics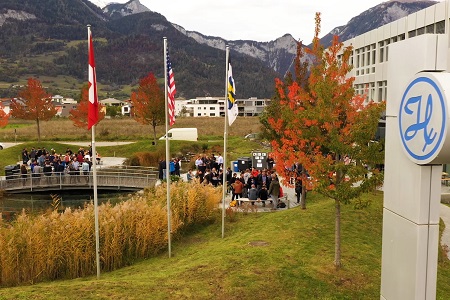 The Process Analytics unit of Hamilton Bonaduz has enjoyed a successful anniversary year. Not only did measurement experts participate in various events but also introduced three new products to the market. The long-awaited Incyte Arc sensor for measuring viable cell density was introduced at the ESACT conference in Copenhagen.
The sensor permits easy implementation of the measurement of viable cell density together with the important parameters for bioreactors dissolved oxygen and pH. Changes in cell sizes caused by a lack of nutrients or other factors impacting their physiology are detected immediately due to the online real-time control – so that fast intervention is possible if needed.
Since September, the company has offered the optical dissolved oxygen sensor VisiFerm mA for applications in bioreactors. It requires fewer calibrations than the previous generation of VisiFerm sensors without raising the risk of measurement deviations. At the same time, the lifetime of the caps has been prolonged and thus maintenance and operating costs are lowered.
A similar product is the optical dissolved oxygen sensor VisiTrace mA, which allows for high-drift stability in the measurement range from 0 to 2000 ppb. Both dissolved oxygen sensors are characterised by the integrated 4-20 mA and HART interfaces.
Other News
Featured Supplier
DiaSorin is an Italian multinational Group and a global leader in the market for in vitro diagnostics. DiaSorin is listed on the MTA (automated stock market) in the FTSE Italia Mid Cap Index, organized and managed by Borsa Italiana S.p.A 
For over 40 years the Group has been developing, producing and commercializing diagnostic tests for a wide...