Pathology in Practice editor awarded IBMS Life Membership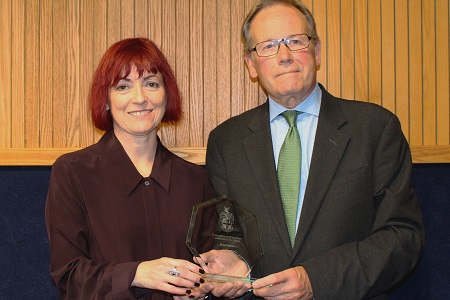 Earlier this year, Pathology in Practice editor Brian Nation CSci FIBMS was awarded Institute of Biomedical Science (IBMS) Life Membership. The presentation was made by Institute President Alison Geddes at a ceremony held during the Biomedical Science Congress event in September.
In addition to his laboratory career, during which he specialised in histopathology and cytology, Brian's editorial expertise has seen him undertake stewardship of the British Association for Cytopathology's publication SCAN, and subsequently the IBMS monthly publication The Biomedical Scientist and its peer-reviewed journal, the British Journal of Biomedical Science.
Textbooks have also featured on Brian's agenda, as, in collaboration with Dr Guy Orchard, he has edited two volumes – Histopathology and Cell Structure and Function – in the Oxford University Press series Fundamentals of Biomedical Science.
History is also an interest as he is Honorary Secretary of the IBMS History Committee, and, with Dr David Petts and the late Tony Harding, was involved in the production of Letters of Consequence: A History of the Institute of Biomedical Science, which was published to celebrate the IBMS centenary.
Other News
Featured Supplier

Sysmex UK Ltd are one of the UK's leading diagnostic suppliers of automated haematology, coagulation and urinalysis analysers, reagents and information systems for laboratories and healthcare facilities. 
With a reputation for high quality products, unmatched service and unrivalled reliability, Sysmex has become a world leader in...