Innovation and the business of science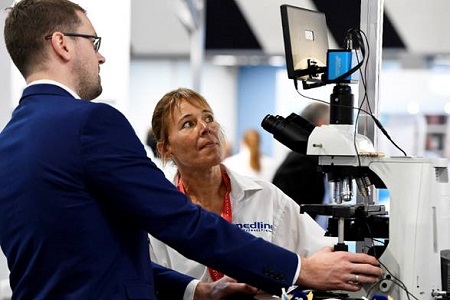 Lab Innovations will be opening its doors on Wednesday and Thursday, 30–31 October 2019, to a record number of visitors and exhibitors. With all exhibition space sold out at this award-winning laboratory exhibition showcase, visitors will have access to a huge range of the latest instruments and technologies, as well as learning about future-proofing and sustainable procurement of laboratory products.
Visitor registrations cover a variety of industry sectors and organisations including the NHS and MoD, P&G, Unilever, Nestle, Pepsico, Müller, BMW, Jaguar Land Rover, as well as academic institutions including the universities of Oxford and Cambridge. Registrants are already taking full advantage of the extensive networking opportunities offered by the show's new Lab Connect business meeting planning tool sponsored by PerkinElmer. This new online business matchmaking service is enabling them to build connections and manage their time efficiently at the show by pre-arranging meetings with peers and exhibitors alike.
In total there will be over 160 suppliers and manufacturers presenting cutting-edge equipment applicable to industries including life sciences, pharmaceuticals, petrochemicals, materials science, and food and drink. Abbott Informatics, Analytix, Eppendorf, Hitachi High Technologies, IKA, Sartorius, SLS, Shimadzu, Thermo Fisher Scientific and Veolia Water Technologies are among the industry players returning in 2019. They will be joined by exhibitors new to the show this year including Merck, Kimberly-Clark Professional, VICI.AG, Huber and the University of Warwick. Leading Swiss laboratory equipment supplier Buchi will even be celebrating its 80th anniversary at Lab Innovations, showcasing not just new products, but some of its original equipment on loan from the Buchi museum.
Other News
Featured Supplier

Stago's objective is to improve the health of as many people as possible by offering powerful biotechnology solutions for blood-based diagnostics. 
We take a lean, confidence-building approach to digital connectivity – from our latest Coag.One middleware to our cyber-secure Connect.One capability for enhanced engineering and remote...