Cell specificity screen for safety assessment of novel immunotherapies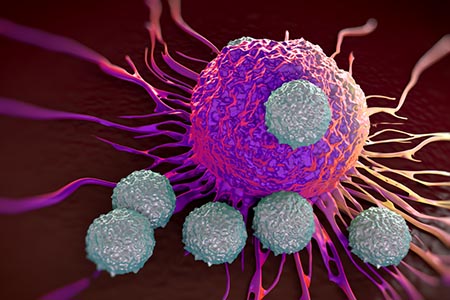 Biotechnology company Retrogenix has enhanced its cell microarray technology to enable specificity screening of whole chimeric antigen receptor (CAR) T cells. The advance helps to address the need for tools to assist with the safety assessment of new cancer immunotherapies.
CAR T-cell therapy involves engineering a patient's own immune cells to recognise and attack a specific tumour. As the therapy works by harnessing the immune system, it is crucial to ensure that there are no unintended interactions that could promote an inappropriate immune response with potentially fatal consequences. Using cells provided by a leading clinical stage T-cell therapy company, Retrogenix has now developed an off-target profiling methodology that screens whole T cells for interactions against thousands of human plasma membrane protein targets.
This advance builds on the company's successes in screening the isolated functional elements (usually single chain variable fragments) that are ultimately engineered onto the T cells. CAR T cells are fluorescently labelled and screened for binding against over 4500 human proteins that are individually over-expressed in distinct clusters of human cells on Retrogenix's microarrays. This confirms binding of the CAR T cells to their primary target receptor and also ensures that there is no additional binding among this extensive panel of proteins that could indicate a potential off-target event.
Other News
Featured Supplier


 
For over 40 years Alpha Laboratories has been providing quality supply and support to UK healthcare professionals for their diagnostic and laboratory product needs. With a continued drive to find new ways to help science improve people's lives, it focuses on specialist biomarkers such as calprotectin for IBD, alongside routine...